ADAPTIVE DFS - DEPRAG FASTENING SYSTEM
Adaptive direct joining of sheet metal parts: The adaptive assembly unit ADAPTIVE DFS combines EC servo screwdriving technology and EC servo displacement technology.
Adaptive
Automatic penetration detection, irrespective of fastener (screw) and assembly part tolerances.

The processing parameters adjust automatically. The processing procedure is continuously optimised.
 
Benefits:
Outstanding process reliability
Shorter cycle time
Optimal delay forming
Elimination of damaged threads
Low stress on the fasteners (screws) and workpieces
Minimal setup time required
Recommendations for new materials, fasteners and joining technology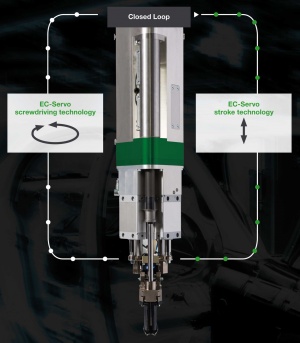 Precise, automatic penetration detection
Continually retrievable data from the control modules enables precise and automatic detection of the relevant contact points.