NEWS: DEPRAG INDUSTRIAL TOOLS
2022
Grinder with collet GDS011-551BY: Circular Letter No. 1/2022

2021
Turbine angle grinders GATQ812: Circular Letter No. 2/2021
Eccentric polishing machine PAE030-095SX: Circular Letter No. 1/2021

2020
Pneumatic Metal Shears S20-180Y: Circular Letter No. 1/2020

2019
Cutting inserts with replaceable cutting plates: Circular Letter No. 3/2019
Belt Sander Model: Circular Letter No. 2/2019
Pneumatic Grinder GDS030-180BXE-8I: Circular Letter No. 1/2019


2018
SALE of chosen products: Circular Letter No. 4/2018

Chosen tools have been taken out of our product range: Circular Letter No. 3/2018

Air File: Circular Letter No. 2/2018
DIQ Intelligent Tools: Circular Letter No. 1/2018

2017
Air Grinders with Collets: Circular Letter No. 3/2017
Eccentric Orbital Polisher: Circular Letter No. 2/2017
Safety Guard – Suction Kit: Circular Letter No. 1/2017

2016
Air Die Grinders: Circular Letter No. 8/2016
Air Angle Grinders (power output 2,5 kW) for Grinding Disks 180 mm and 230 mm: Circular Letter No. 7/2016
Straight Grinders for flex grinding disks  - Ø 125 mm (Ø 5"):  Circular Letter No. 6/2016
Air Angle Polisher with Turbine Drive: Circular Letter No. 5/2016
Air Angle Grinders with Turbine Drive (power output 2,2 kW, 2,6 kW) for Grinding Disks  125 mm, 150 and 180 mm,
with Spindle Thread M14: Circular Letter No. 4/2016
Straight Grinders for flat and flex grinding disks  - Ø 100-230 mm (Ø 4"-9"):  Circular Letter No. 3/2016
GS 510-230BX

  (replacement for PBO 100MX)

GS 515-280BX

  (replacement for PBO 150MX)

GS 818-210BX

  (replacement for PBO 180NX) 

GS 818-210BXE

  (replacement for PBO 180NX)

GS 823-280BXE

  (replacement for PBO 230MX)

Tools removed from DEPRAG INDUSTRIAL-Program (Hammers, Drills, Scalers, Industrial Vibrators, Polishers, Grinders)
Air Angle Grinder: Circular Letter No. 2/2016
Turbine Grinders - Straight Design - for Flat Disks Ø 100 mm and 150 mm, Power Output 2,2 kW (2.95 HP):
Circular Letter No. 1/2016

2015
End-of Arm-Tooling for Grinding and Polishing
Would you like to increase the efficiency and productivity of your production? Do you have a high waste rate in your production? Are you thinking about installing a robot to your production in order to lower your costs?
DEPRAG CZ a.s. offers: independent consultation in your facilities and evaluation of the possibility to use an industrial robot for grinding and polishing applications, price quotation including a 3-D model, selection and testing of all components for optimum grinding or polishing results, complete engineering services incl. design, production, assembly and integration to your production proces.
End-of Arm-Tooling for Grinding and Polishing:
Our air stationary grinder is designed as a customised customer solution to be used in a connection with an industrial robot, especially in mass productions. More information:  End-of Arm-Tooling
Air Angle Grinders (power output 2,2 kW, 2,6 kW) for Grinding Disks Ø 125mm (5'') and 180 mm (7"):
Circular Letter No. 6/2015
Air Drill for Use in Potentially Explosive Environments PV 16BN
On 1st September 2015 the Ex-President of the Czech Republic, Prof. Václav Klaus, visited the company DEPRAG CZ a.s. during his visit to the Lázně Bělohrad Region, the Ex-President started the visit by the discussion with the regional representatives and students of the primary school in Lázně Bělohrad.

The visit in DEPRAG was devoted to the discussion about the company-future with the company management. Managing director of DEPRAG introduced briefly to the Ex-President the business results and the fundamental priorities of the business activities of the company DEPRAG. As part of the ongoing program of the visit, the Ex-President took a look at the company premises where he saw selected machinery and equipment, which the company exports all over the world.

More information in Czech about the Ex-President-visit you can find here: 
IDNES.CZ, Jičínský deník, MF DNES - Královéhradecký kraj, Parlamentní listy, DENIK.CZ,
Video: Regional Television - V1.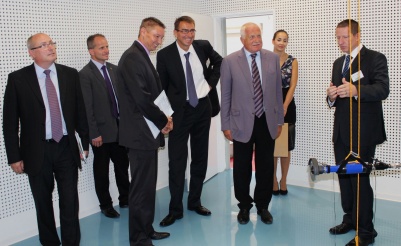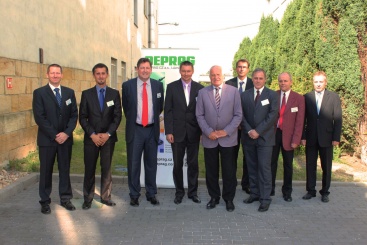 Prof. Václav Klaus in the noise and vibration-testing-room     Prof. Václav Klaus with managers of DEPRAG CZ a.s.  

ONLY FOR DISTRIBUTORS: 
We are pleased to introduce a special testing hose set to determine the air quality and actual pressure on site at customers facilities. This set is mainly intended for distributors, to be used during tool tests and presentations at customers workplaces. The pressure gauge shows actual dynamic air pressure, just before it enters the tool. The set also is equipped with an external filter in order to see, how clean is the compressed air.
Hose Sets for Testing of Air Quality and Air Pressure: Circular Letter No. 5/2015

Air File: Circular Letter No. 4/2015
Air Angle Grinders: Circular Letter No. 3/2015
SPECIAL ACTION - Air Impact Tools - Model PSR 10C, PSR 16, PSR 24 - for the effective tightening and loosening of fasteners or screws, size M8 to M24
After many request of our customers we have decided to produce again the impact tools of type PSR 10C, PSR 16, PSR 24, which complete our already comprehensive assortment of impact tools for the toughest 24/7 industrial applications. Applications: For the tightening and loosening of screws in all automotive- and machine-production areas, in general tire services, in industrial fabrication areas, in hand-crafted metal production areas, in the production of reilway cars.  More information you can find HERE:

Angle Polisher: Circular Letter No. 2/2015
Impact Tools: Circular Letter No. 1/2015

2014
Radial Grinders: Circular Letter No. 4/2014
Angle Grinder with Collet: Circular Letter No. 3/2014
Drill with Turbine Drive: Circular Letter No. 2/2014
DPT 450-011BXOEX

(Turbine Drill for the use in potentially explosion-hazardous environments)
Swivel Connectors, turnable: Circular Letter No. 1/2014
Swivel Connectors G1/2", G1/4", G3/4"

2013
Angle Grinders, Impact Tool: Circular Letter No. 6/2013
Air File: Circular Letter No. 5/2013
Impact Tool: Circular Letter No. 4/2013
Air Pliers: Circular Letter No. 2/2013
We removed from our product line some grinders
830477
830477