Automatizace
The company DEPRAG is a world leader in customer solutions for industrial automation. Today DEPRAG is represented in the majority of the world's developed industrial countries through its subsidiaries and exclusive sales partners. The subsidiary DEPRAG a.s. has been supporting customers in Central and Eastern Europe since 1998, particularly specialising in industrial automation.
Robot guided work stations for grinding and polishing in production processes

Assembly of special machines and production lines
Design and manufacture of assembly lines for handheld assembly
A wide range of components for automation
Design of special equipment
Customised end effectors for robotic tooling
Handling and palletization

Development, design, production, service and calibration in DEPRAG CZ facilities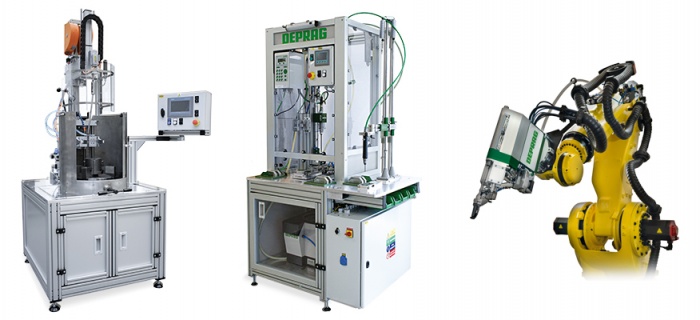 Download - PDF catalogue
Our components = our know-how

Key components, integral to our customer solutions, are the results of in-house development and customer specifications. As a global player, we keep up to date with the latest trends and innovations.

Individual consultation for your requirements

Tour team of technical advisors is always ready to discuss your individual requirements and prepare the optimal solution, that will increase the productivity of your production and assembly processes. Our creative designers, electro project designers and programmers use their specialised know-how to create a project plan for your technical solution. They draw on their knowledge of the functional advantages of latest technologies to provide an appropriate quotation.

In-house production

Thanks to our in-house production facilities we can guarantee the manufacture of key components, special machines and robot guided work stations. We can provide thermal hardening treatments in our own hardening shop for components which are subject to operational wear. We are therefore able to guarantee production from A to Z all under one roof.

Technical support from start to finish

Our project team can provide support in the monitoring of parameters and adoption of your new technology, including specialist installation and activation at your production site. Of course, this support also includes training for operating and maintenance personnel and the handover of technical documentation, along with any testing required.

Service support for reliable operation of your technology

Following purchase, we provide the essential services needed to keep your technology running, such as calibrations, verification, analysis of screw joints and much more. We even offer an on-site calibration service.


There are no products matching the chosen parameters.